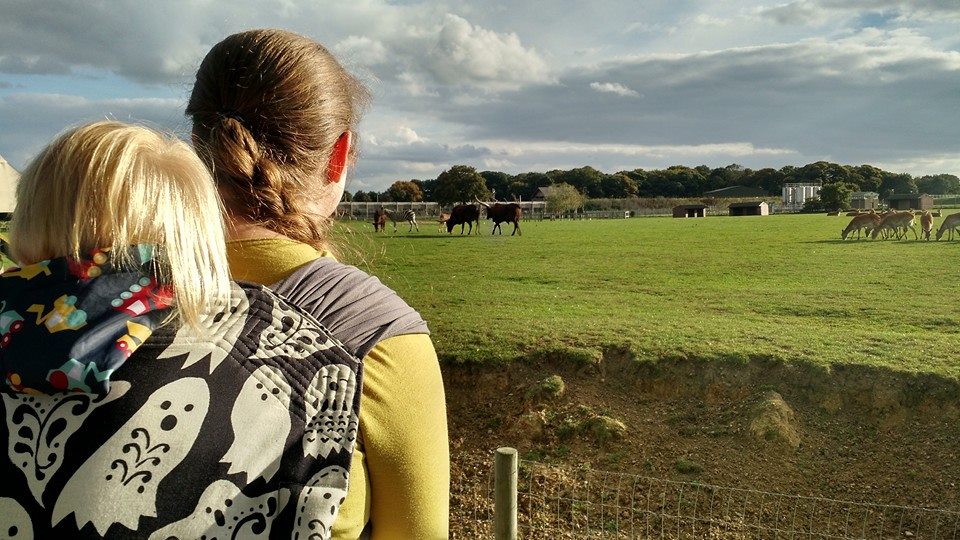 Manufacturer – Podmama
Design – Onbuhimo
Colour – Boo – ghosts fabric
Size tested – Toddler size
Retail price of tested design and size – £65
Provided to me by – Podmama
Website – PodMama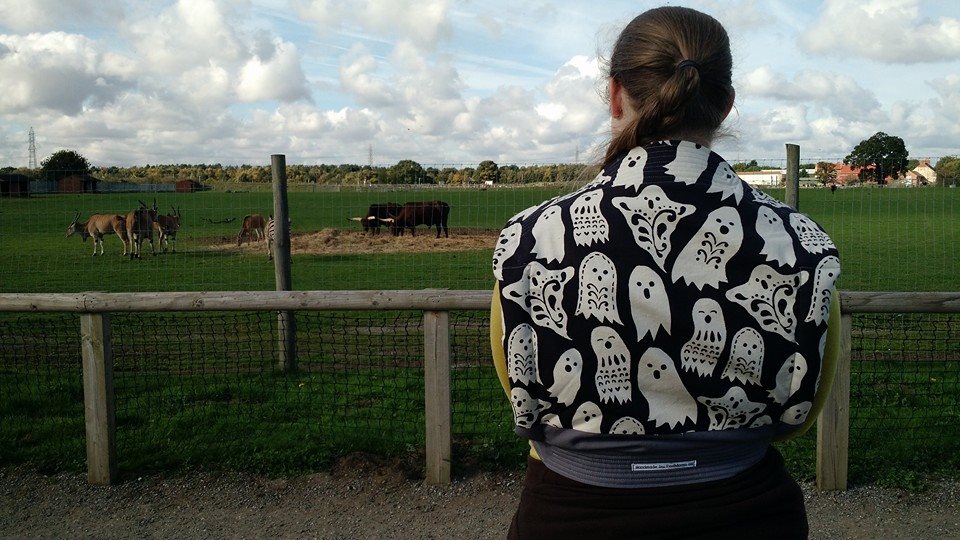 I have recently had a onbu (onbuhimo) here for testing from Podmama. Having not used an onbu before I looked up some tutorial videos and learnt that they are a traditional Japanese carrier. There is a main panel and two long shoulder straps, but instead of a waistband there is a loop (or rings on some versions), at each of the bottom corners of the main panel. The child's legs go out the side of the panel so the bottom section of the panel curls under their bottom and up in front of them and between you and them, forming the seat. When used for front carries the straps can be straight or more usually crossed behind you, and for back carries they tend to be ruck style, and can be finished in whatever way you prefer (my preferred is tibetan). Onbu's tend to be used with arms out so have shorter panels than other carriers (although as usual Reu insisted on arms in every time I tried to encourage them out!), so are great for busy toddlers who want frequent ups and downs, as well as younger babies with head control. Because there is no waistband, these carriers can be ideal for pregnant women or those who just do not find waist bands comfortable.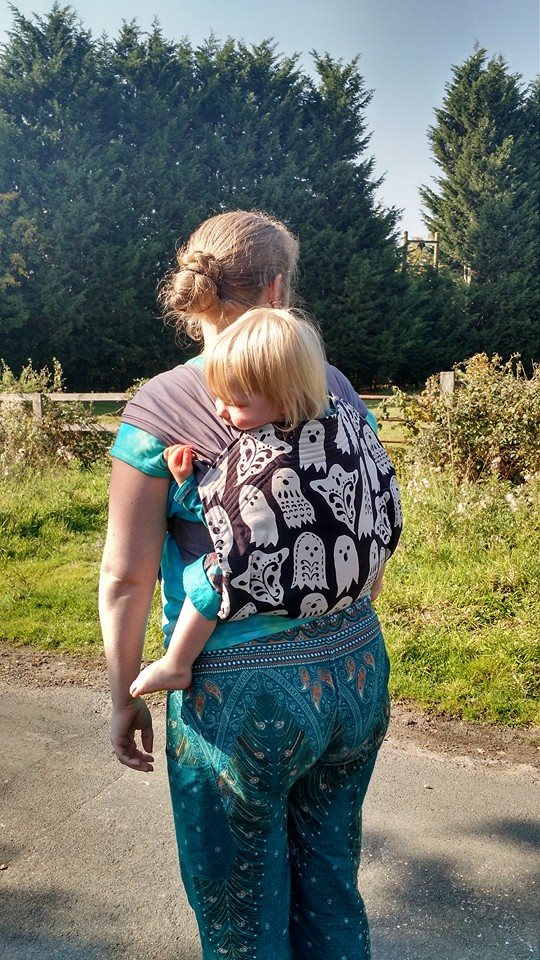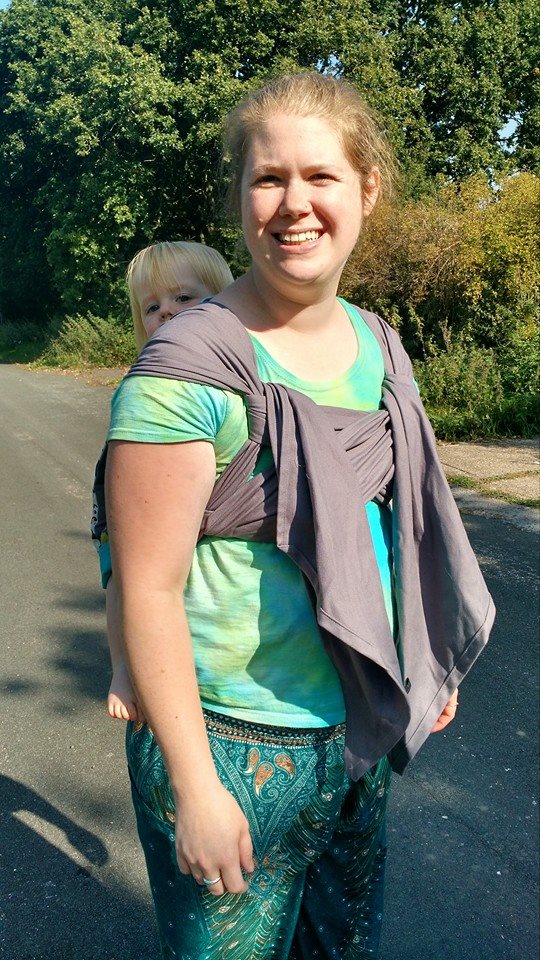 As with the pod I had tested from PodMama previously (see my review of Nobby the pod here!), I was very impressed with the attention to detail and workmanship on Boo the onbu (Onboo!). Boo was a halloween inspired design with grey cotton straps and  a spooky fun ghost design for the main panel. there was padding to the top and bottom of the panel, as well as some on the sides where the child's legs are.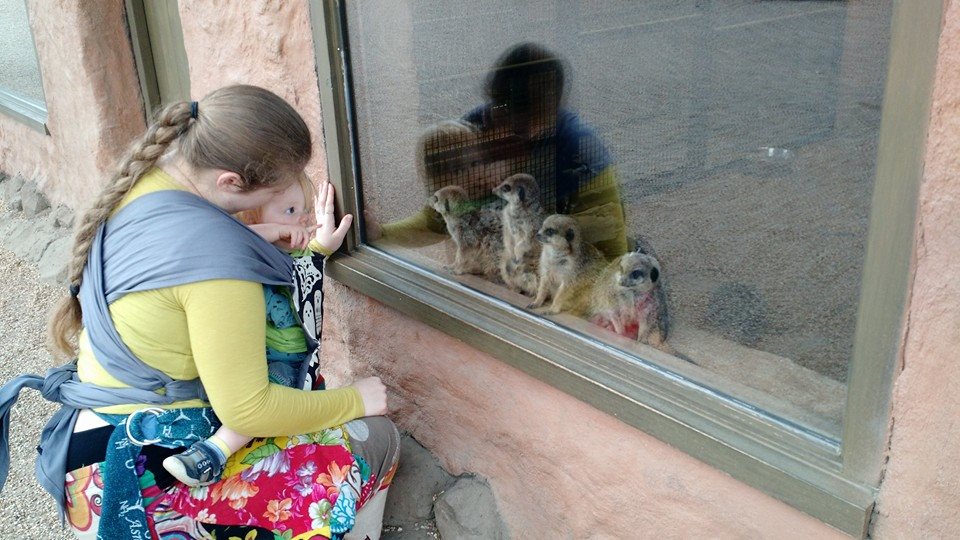 Having never used an Onbu before Boo I was very pleasantly surprised with how comfortable it was to use. For back carrying I found it easiest to stand Reu in front of me, get the onbu behind him with the straps ready threaded ruck style with enough slack to get on, and feed one of his legs out each side of the carrier (you could do this with them sitting in a younger child – Reu was 20 months at the time of testing). I them superman tossed him up onto my back as i would do when wrapping, fed my arms through the ruck straps, tightened everything up so he was nice and high and finished the carry (you could tie a double knot but I chose to finish knotless tibetan as I find this more comfortable on my shoulders). The straps and main panel on Boo were made of a very sturdy cotton, which was very supportive, and the straps were lovely and wide so you could spread them where appropriate to spread the weight to where suits you best. While some onbus have rings at the base of the panel, Boo had cotton loops. This were snug fitting, so while it look a little effort to pull through when tightening, the straps wouldn't slip back through by themselves. They had enough grip that while tightening I didn't feel the need to secure the straps as they really weren't pulling through at all (you could however easily secure them between your knees if required).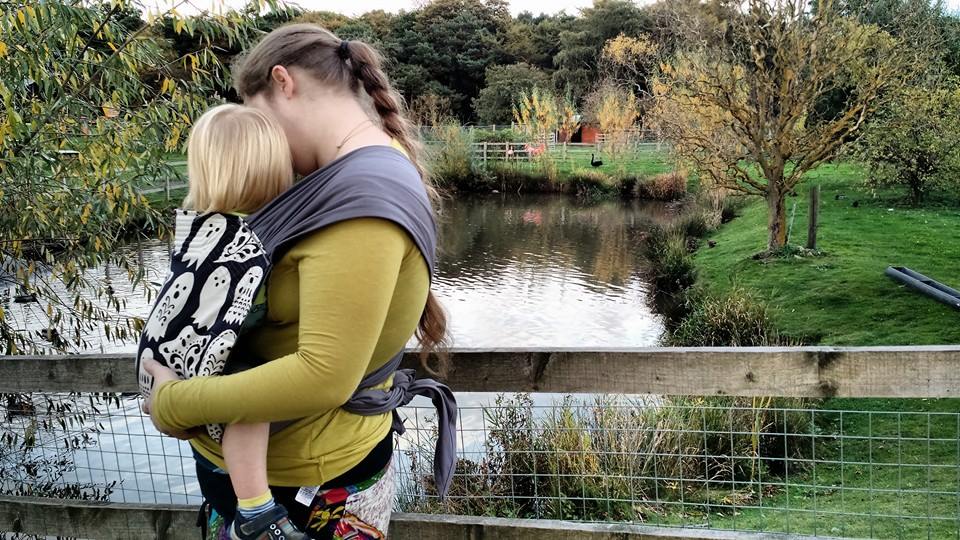 Once on my back, Reu and I were very comfortable. His weight was very well supported and I found the wide straps and lack of waistband very comfortable. On one of our test trips we took Boo to the zoo (zooboo!), and Reu had a few long carries with naps throughout the day (showing how comfortable he was), in between charging around seeing all the animals. It was really quick and easy to get him up and down, and without the long tails you would have with a wrap. I even found that when Reu was walking, I could leave Boo on my back secured with a loose knot, which was comfortable (maybe even fashionable if you're interested in fashion?), and therefore easy access for the next up.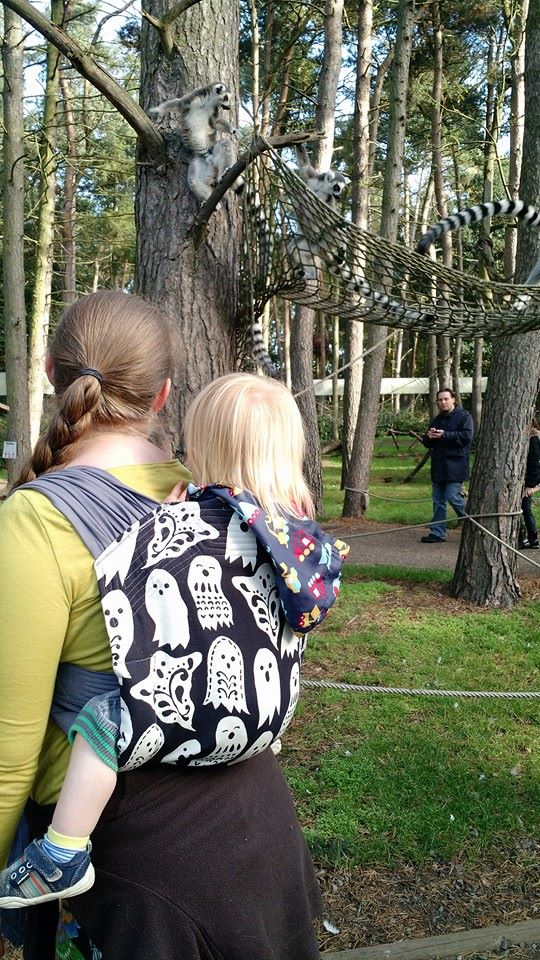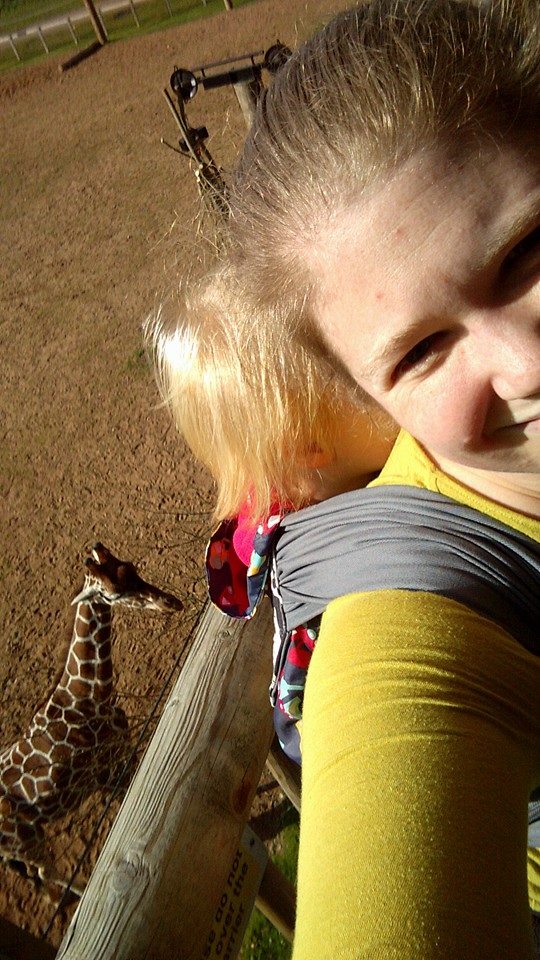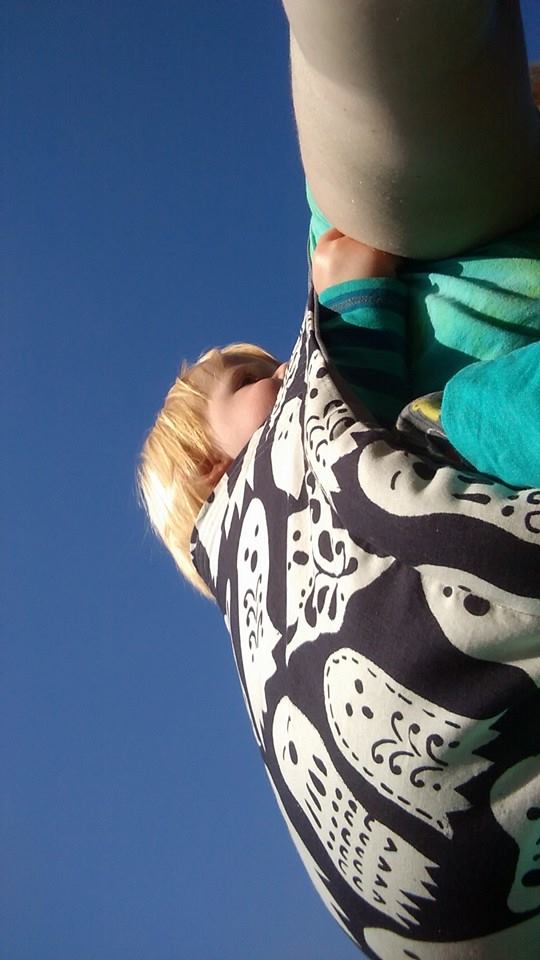 We also tested Boo out in a front carry, with the straps crossed behind us, and again found it really comfortable and supportive. I started with Reu standing as I did for the  back carry (again, with a smaller child you could sit or lie them down), and picked him up onto my front before crossing the straps behind me and threading them through the loops. I also tried putting the carrier on first with the straps already threaded loosely, before putting Reu in, so I just needed to tighten up, which I found an easier method.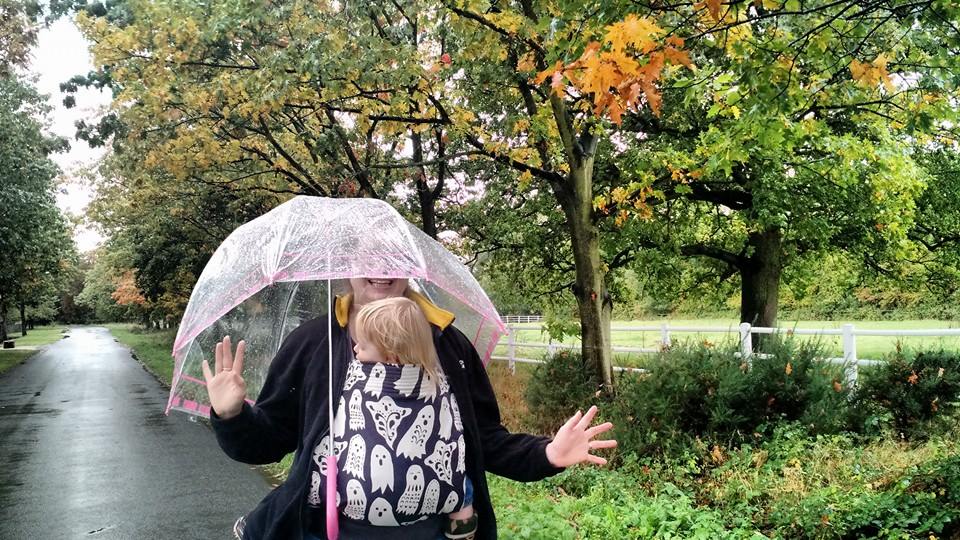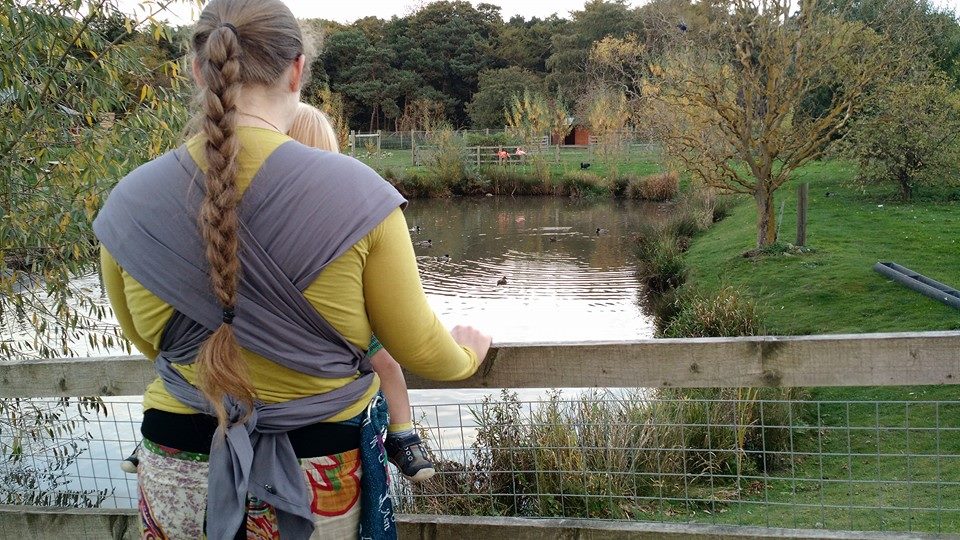 Overall we very much enjoyed our time with Boo, so much so that I'm currently planning a custom Onbu with the lovely PodMama. Do check out her website for details of her onbu's, as well as pods and other carriers, and how you can design your own from her lovely variety of fabrics (or your own if you have a wrap or scraps you're thinking of converting). Boo was really quick and easy to use and very comfortable for both Reu and I.