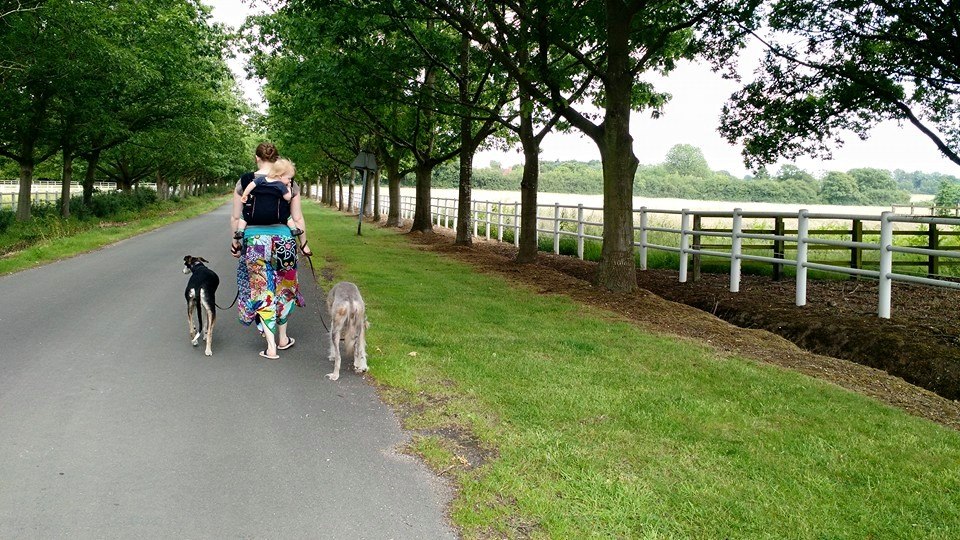 Manufacturer – Hoppediz
Design – Bondolino
Colour – Black and sand
Retail price of tested design – 99 Euros
Provided to me by – Hoppediz
Website – Hoppediz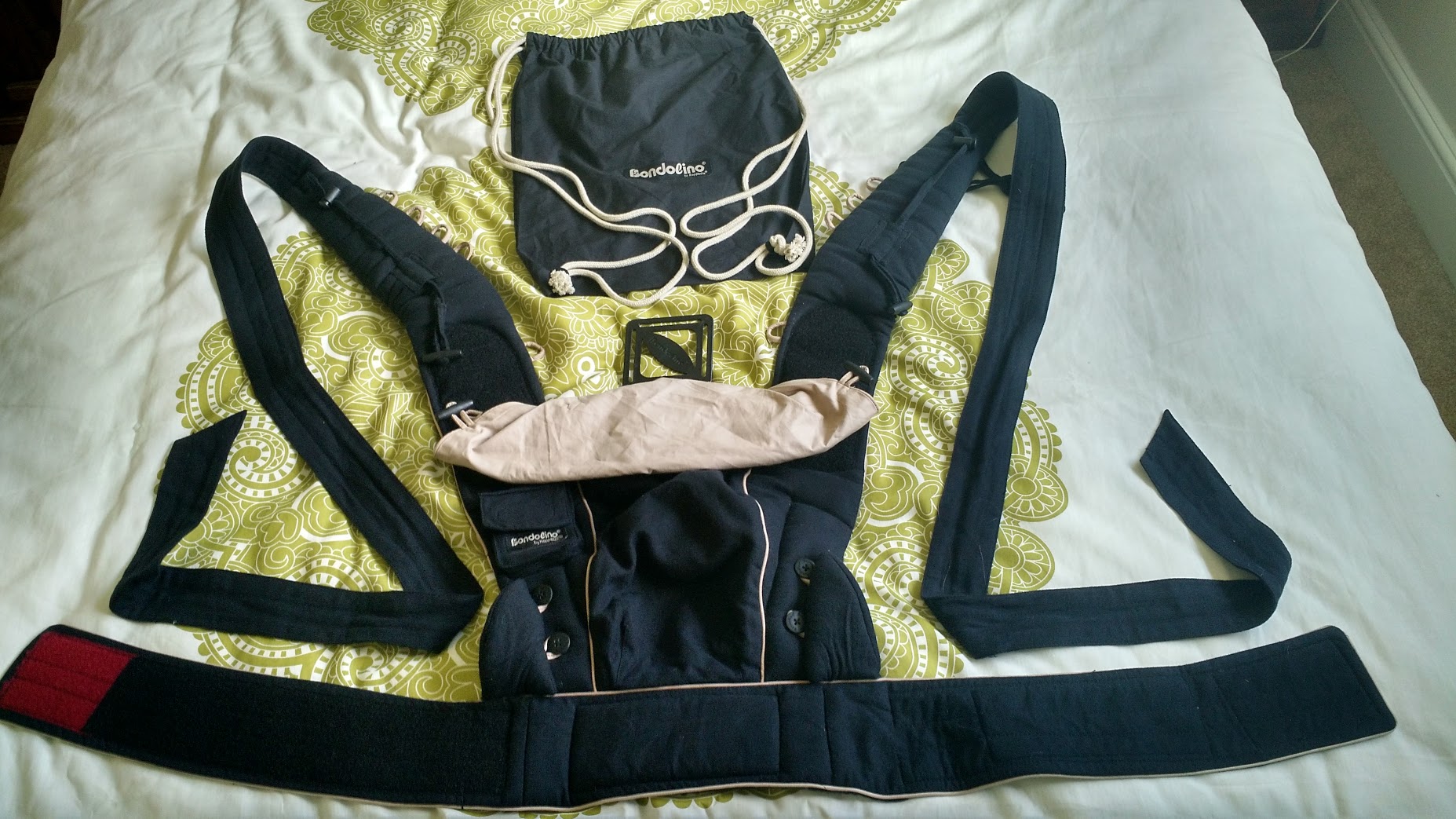 Initial thoughts on design, colour and feel
I initially thought the Bondolino would be similar to other soft structured carriers I've tried, but when I opened the box I was blown away by all the thought that had gone into the features of this carrier. There are so many features I've added an extra section to my normal review format! You can tell that the people at Hoppediz have really tried to make a carrier that will suit any member of the family carrying, as well as be suitable for a really wide age and size range of baby/child (by using the built in adjustments). I must admit I was like a child in a toy shop, and had a good going over all the features straight away, even though Reu was asleep in bed.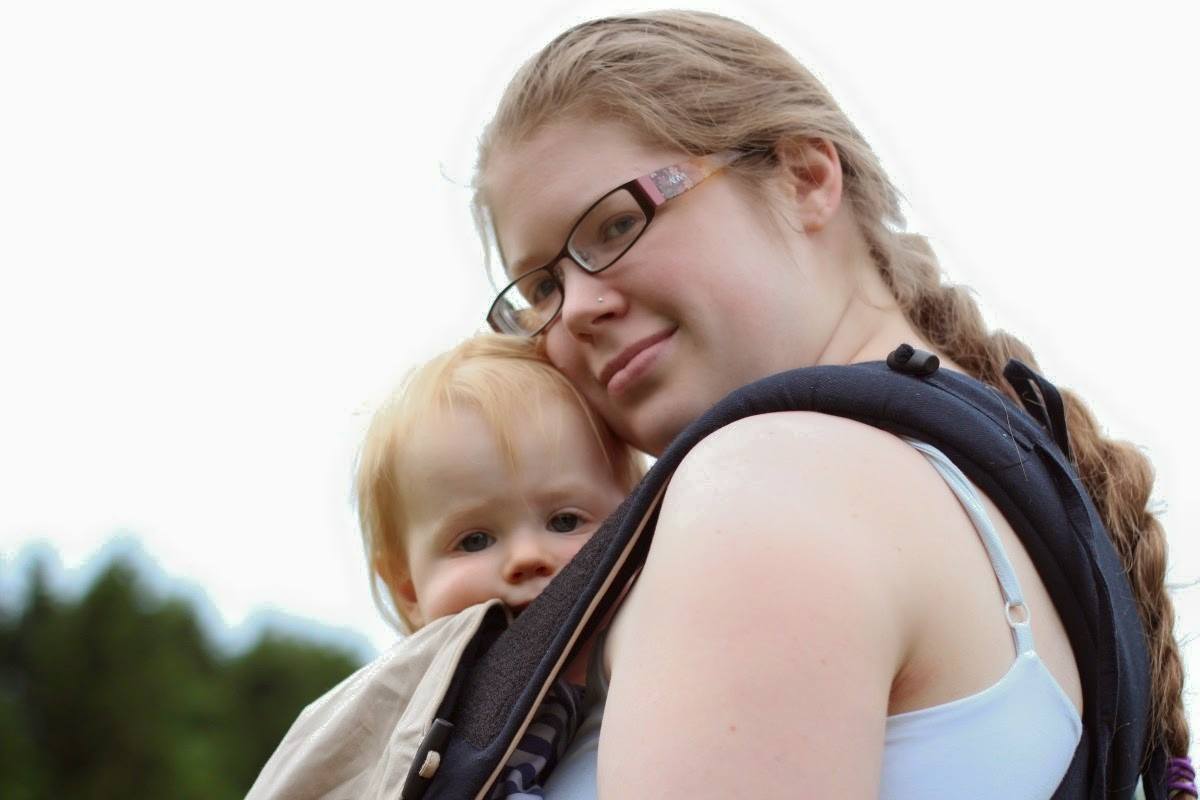 The Bondolino is basically a mei tai, but with added benefits. It has a wide velcro waist and tie straps so there are no buckles. The velcro waist is nicely padded and the width is good to spread the weight without any pinch points. The advantage to the velcro fastening waist that I instantly thought of was that it's very easy to swap between users of different sizes without having to make adjustments, as you would have to with a buckled carrier. The velcro felt completely secure and has a different coloured section to show the minimum overlap required for safety (you can also buy waist belt extenders if required, without these the waist extends to about 110cm/44inches). A friend did point out that the only downside she could see with the velcro would be if you were trying to silently remove it with a sleeping baby, velcro is not known for its stealth qualities. The panel has nice sized seat darts so there's plenty of room for your baby's bottom. The shoulder straps are also well padded, but still nice and flexible so you won't be flailing around behind your back trying to grab that strap that's decided to stick straight out behind you! I received a black and sand coloured design which would easily suit anyone, and in fact Hoppediz marketing emphasises that this carrier is very suitable for men as well as women. The Bondolino comes in a wide variety of different colours and designs, including a light version for warmer weather and one made with Swarovski elements! And if your little one wants to be like Mummy or Daddy, they make a mini version for dolls too.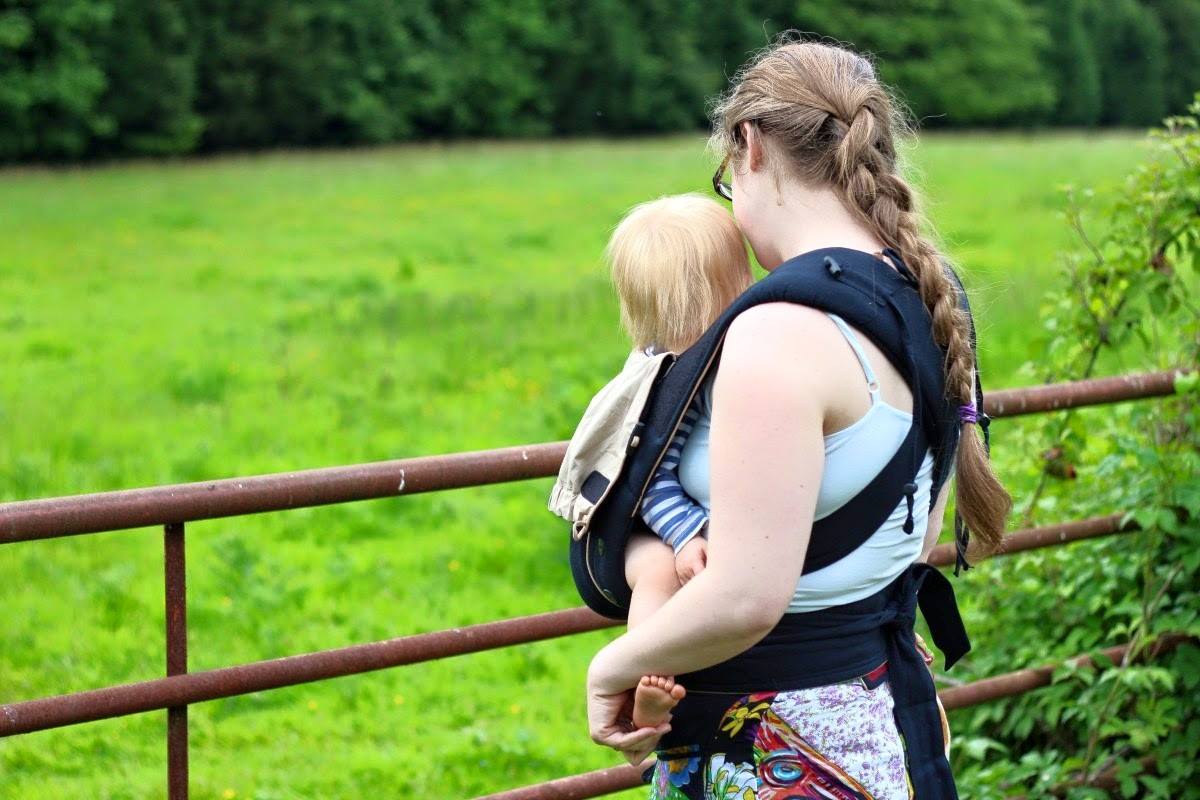 Special features
The bondolino comes with it's own cinch belt (which doubles up as the chest strap), and the panel has a little loop for the cinch belt to thread through so that it stays in the right place. This allows you to make the panel width narrower so that you can provide knee to knee support for even newborn babies. As your baby grows, you remove the cinch belt so that the carrier continues to fit appropriately. Then, as you baby continues to grow (or you swap from carrying a baby to an older child), the Bondolino has integral seat extenders. When not in use they fold into their own little pockets and then when you need them, you just fold them out and fasten using two buttons each side.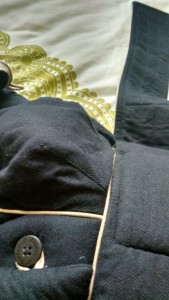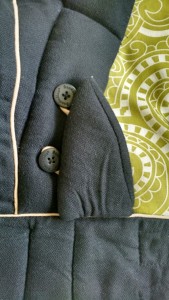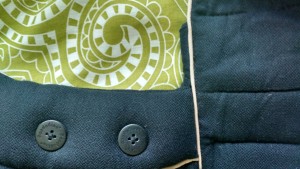 The height of the panel can also easily be adjusted, so that you can appropriately carry a wide age range of children. When you need a taller panel you simply use the loops and toggles to fasten the sleep hood higher, forming a panel extension but still leaving you with a half sized sleep hood.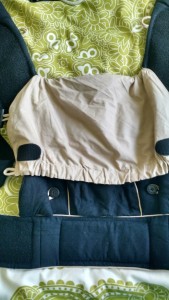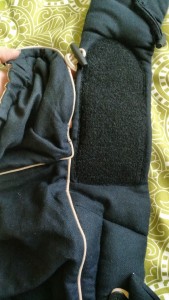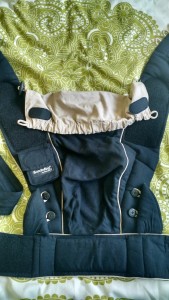 The sleep hood itself it attached by velcro so you can easily adjust it according to your own individual requirements, and Hoppediz even provide little velcro covers to protect the attachments during washing. These can be found in the handy little pocket attached to the side of the panel. This pocket is big enough for keys but wouldn't fit my phone or purse in.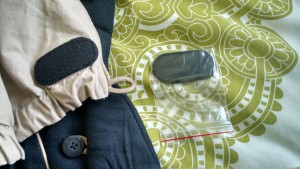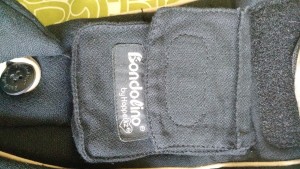 When you have your baby on your back and they fall asleep, you can sometimes find yourself trying desperately to reach the straps on the sleep hood to pull it up over your baby's head, but the Bondolino has a solution for this too. Before popping your baby on your back, attach the toggle from the shoulder strap to the loop on the sleep hood. Then when you need the hood up, just pull the other end of the toggle strap (this will be on your shoulder so easy to get to), and it should pull the sleep hood up. I tried this while out on a walk and unfortunately the velcro had stuck so I couldn't pull it up, but I would simply attach the provided velcro covers in future and this shouldn't be a problem.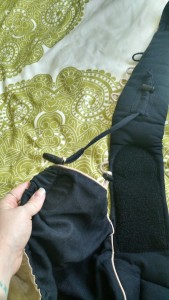 With the chest strap there are four loops on either shoulder strap to attach to, allowing for people of different shapes and sizes to all have a comfortable fit. I also chose to criss cross the strap through two of the loops and I found this to be really comfortable and a good way to spread the weight.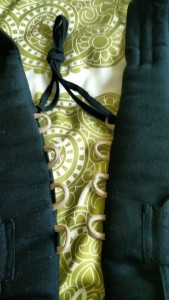 You also get a bag with the Bondolino so you can easily carry it about and keep it clean when not in use. Another nice touch is a special plastic square that helps you to achieve a comfortable cross on your back when you are carrying, especially if you are not familiar with using a mei tai. There is also a very comprehensive manual with lots of clear pictures and instructions.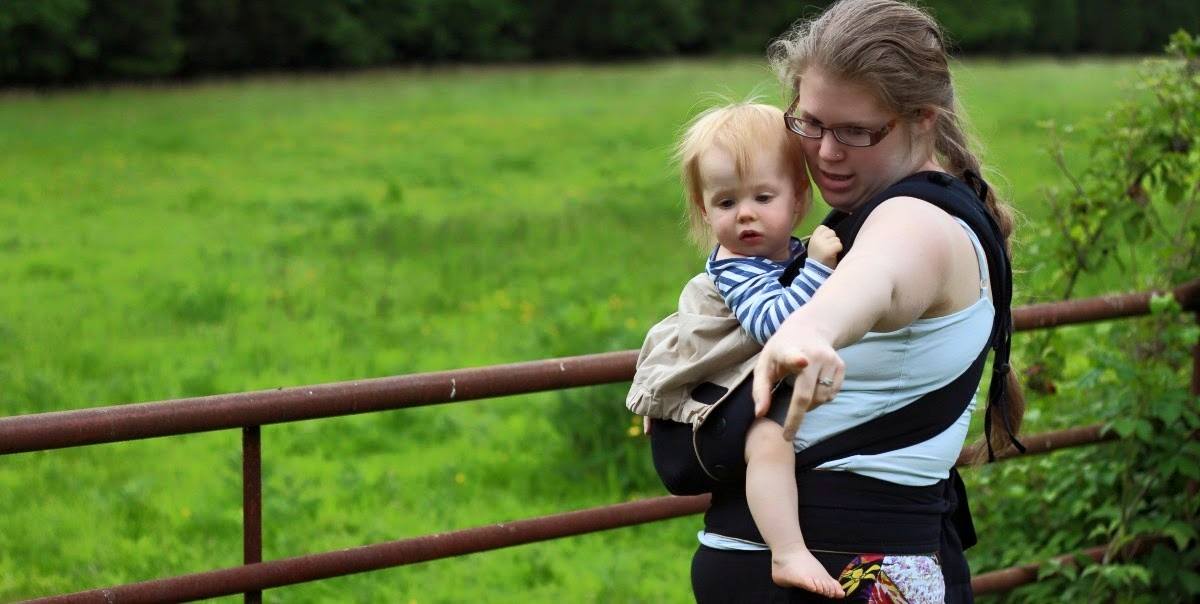 Front carry thoughts
We've been for a few walks using the Bondolino for a front carry and it was really easy to use and very comfortable. I have used mei tais before but they are very simple to learn to use so anyone who hadn't before could learn very quickly. There was no pulling or digging anywhere, and the padding on the waistband and shoulder straps provided a very comfortable level of support. Reu was obviously very comfortable as he settled very quickly every time we used it.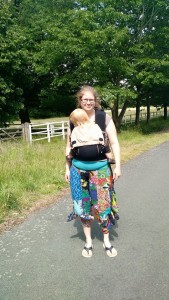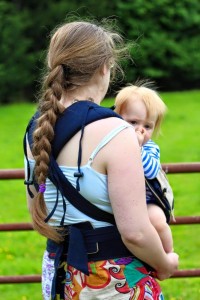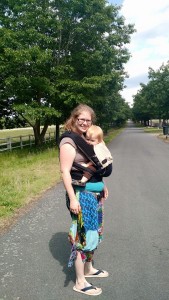 Back carry thoughts
Again, we went for walks to test out the Bondolino with a back carry. It was very comfortable and well supported with padding in all the right places. The chest strap was easy to use and I found criss crossing it through two of the loops helped to spread the weight even better, and there was enough length left that you could weave it through more if this was more comfortable for you. Reu was once again, very settled and happy to watch the world go by from his vantage point on my back.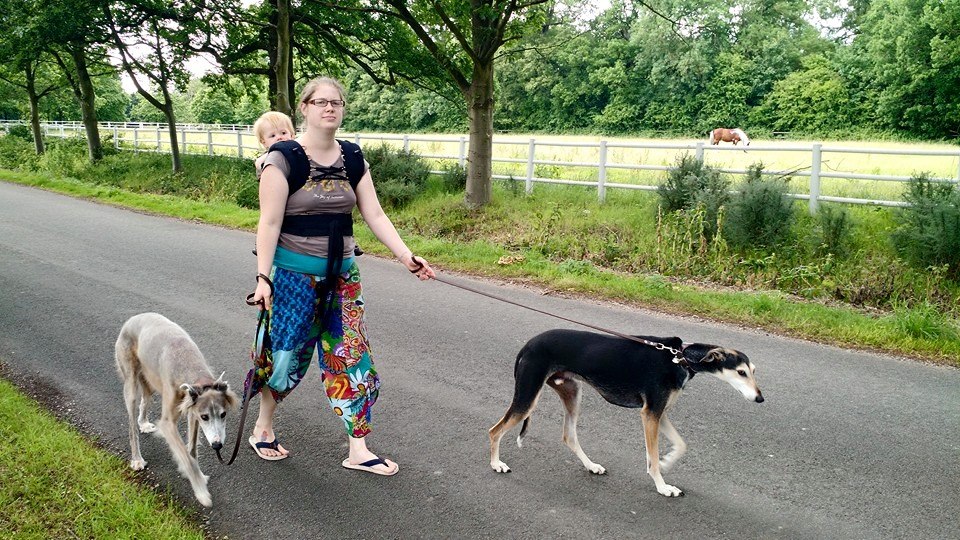 Overall thoughts
I am really impressed with the level of thought that's been put into the Bondolino, and the ways that it can be adapted to suit babies from newborn right up to older toddlers (the weight limit is 20kgs). It was really comfortable and easy to use, both for front and back carries, thanks to the design and well placed padding. This carrier could be a family's only carrier, suiting parents of varying builds and sizes, as well as differently aged children, by making some quick and easy adjustments. I also like that all the adjustable parts are integral so there's no risk you'll leave the house without the seat or panel extenders. Overall, this is a great carrier suitable for a really wide range of uses, and I hope to see more in the UK soon.