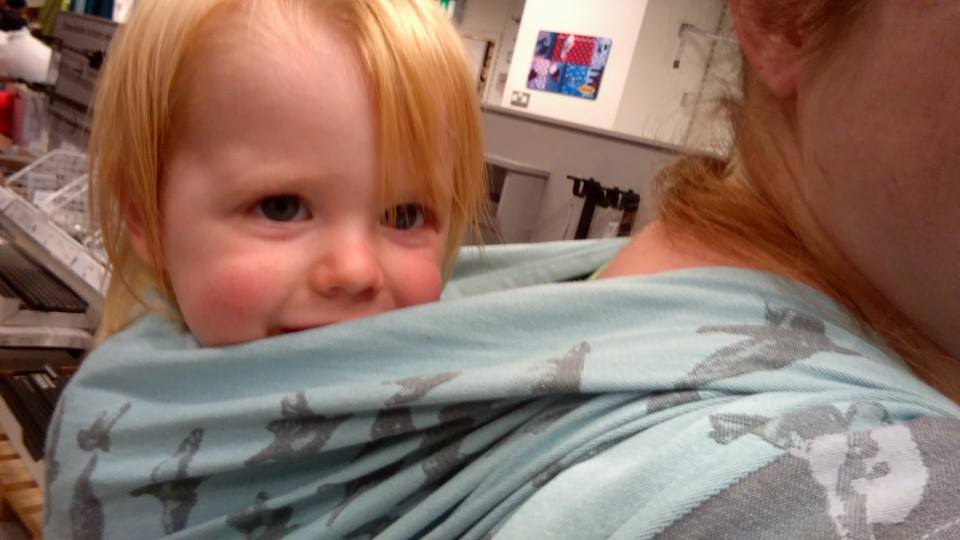 Manufacturer – Shire Slings
Design – Starling Murmuration
Colour – Frosty Mist
Blend – 100% cotton
Weight – 228gsm
Width of wrap – 68cm
Size tested – 6
Retail price of tested design and size – £128
Provided to me by – Shire Slings
Website – Shire Slings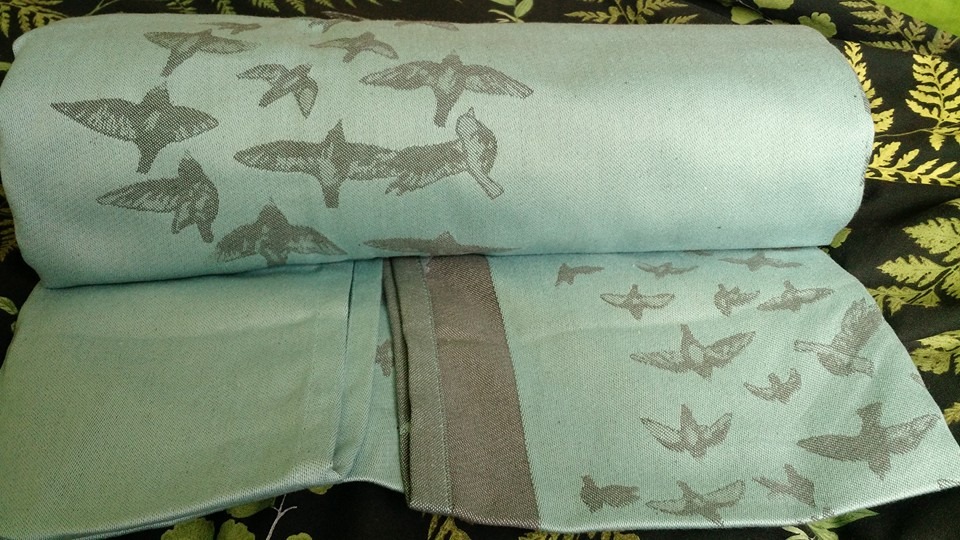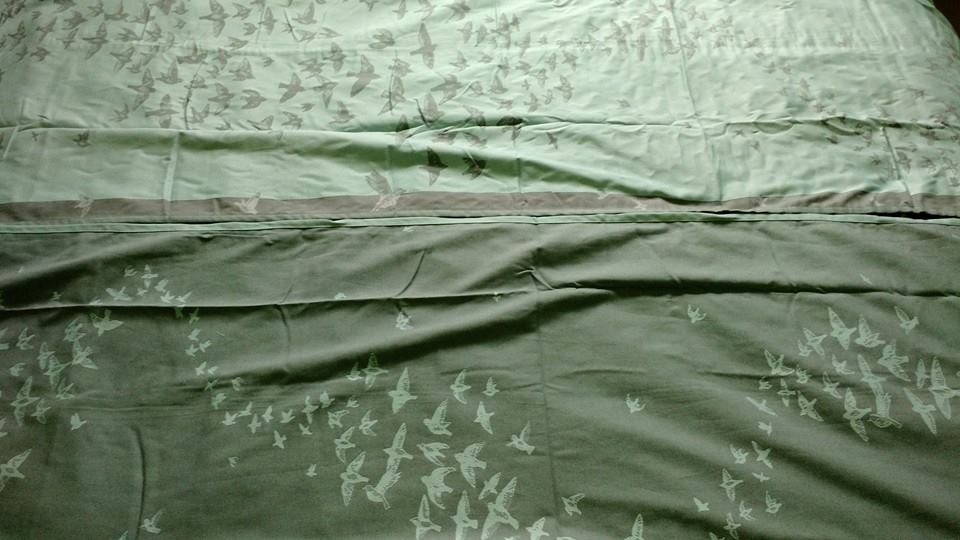 Initial thoughts on design, colour and feel
When Starling murmuration arrived the first thing that really impressed me was the improvements Shire Slings have made in their finishing process. I had previously bought brand new one of their original Love Geek wraps, and at the time they got a bit of a reputation for being quite stiff and taking quite a lot of breaking in. The Love Geek I bought was certainly stiff, although I sent it off for conversion immediately so can't really comment on how long they take to break in as wraps, although my wrap conversion mei tai has certainly softened considerably in the last year or so. Since then Shire Slings have been working on the finishing processes that wraps go through after weaving, to make their wraps much softer straight away, without losing anything from their hard wearing and pull resistant weave. And I would certainly say they've managed it with Starling Murmuration. The wrap arrived already soft and floppy, wrapped in a coordinating coloured muslin, and paper parcel. Even before its first use it felt really nice and had a beautiful sheen to the 'right' side of the wrap, while the 'back' is more textured for grip. We were on holiday in Yorkshire (for The Northern Sling Exhibition), during our testing time and were lucky enough to see the starlings flying together in a stunning coordinated display, and this wrap design is equally beautiful with lots of detail on the birds. I also admired Shire Slings new sparkly labels!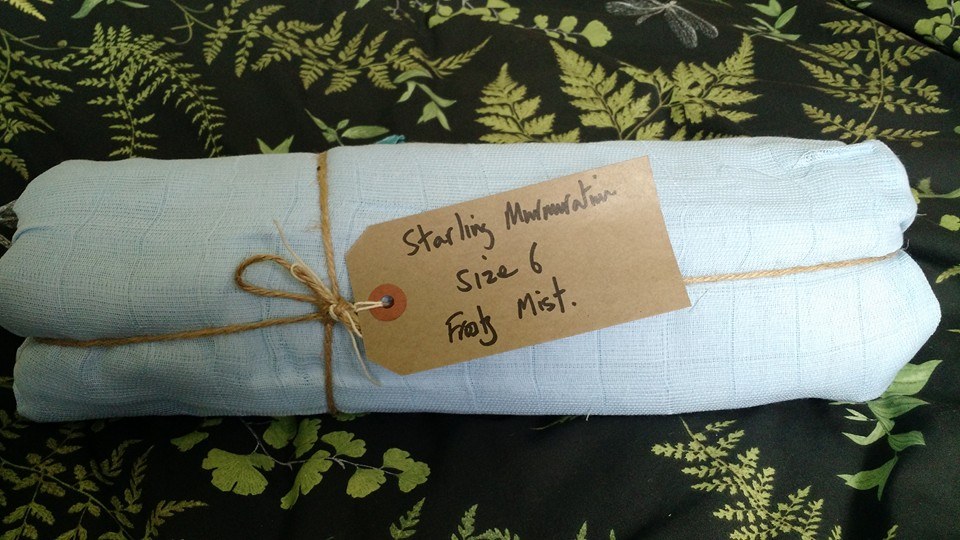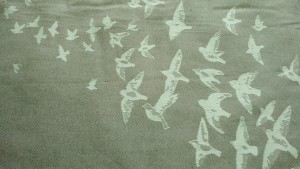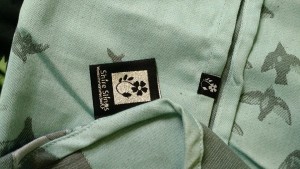 Carrying thoughts
We used starling murmuration over several weeks before passing it on to SlingDad Dom for him to test out prior to giveaway on the Sling Sally Facebook page. It further softened during the time we had it, even though it was really nice to use straight from new and would be lovely and soft for a newborn as well as being super strong for older children. We (21 month old Reu and I), used it for a variety of front and back carries during this time, and took it for walks, around Ikea, for lunch with friends, at the sling library and for sleepy cuddles at home. I've now tried a few Shire Slings wraps and I really like their quite dense weave structure, and it's a definite bonus that it's not prone to pulls – in fact I think you'd have to actively try to pull it!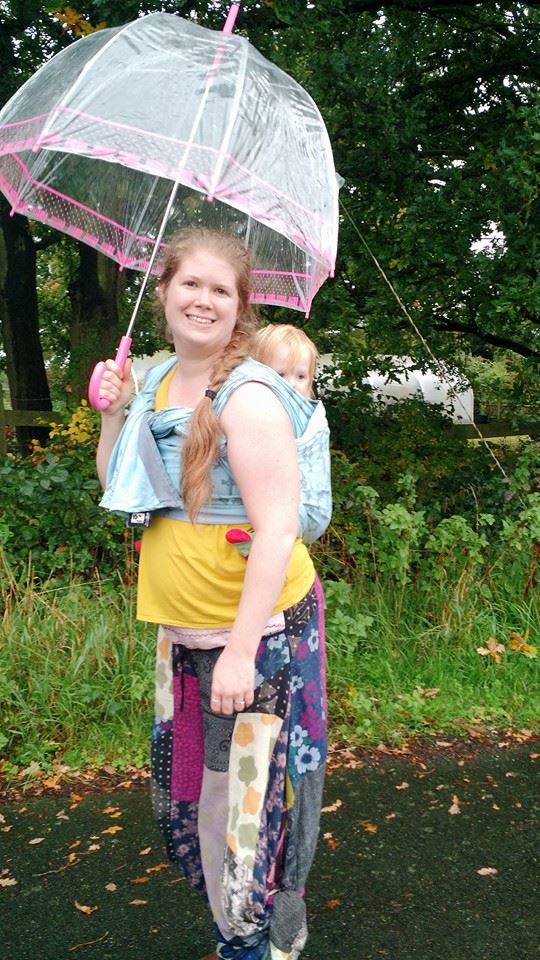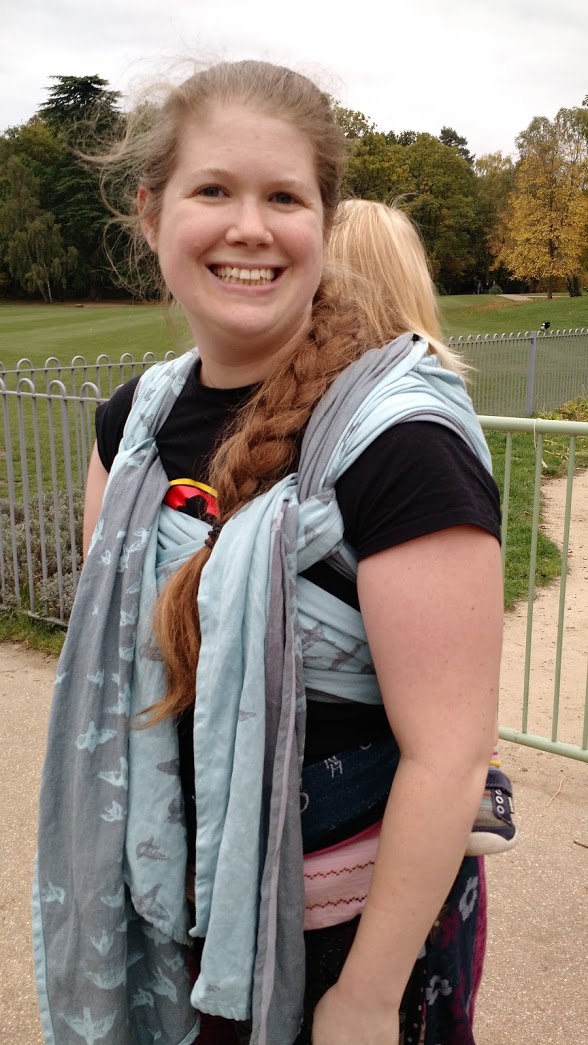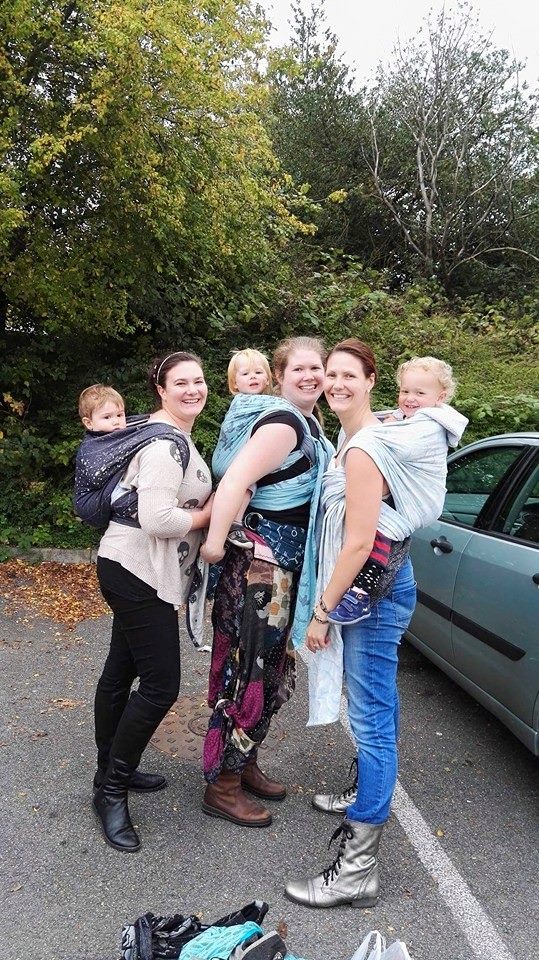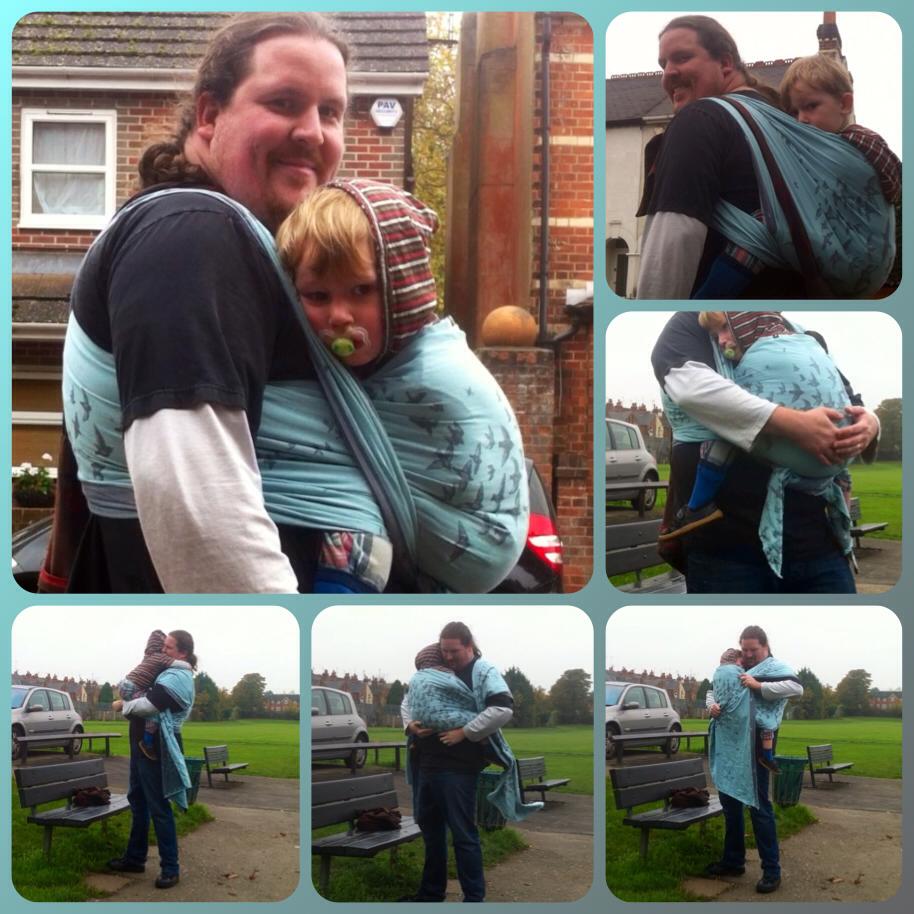 I found  starlings really supportive and sturdy for toddler Reu, but without being at all diggy, which I find can sometimes happen on the shoulders when carrying a larger child. It was easy to wrap with and formed itself nicely around us in both single and multi layered carries, and the second layers had a nice level of grippiness – not too much when making a second pass, but enough to hold the carry without slipping. We tried a double hammock with a centrally flipped chest pass and saltwater finish, to try and show both sides of the wrap and found it really comfortable as well as rather attractive. My favourite back carry is a ruck finished knotless tibetan so we tested starlings with this knotless finish on many occasions and it always held well, with no slipping at all, as well as being nice a supportive and comfortable.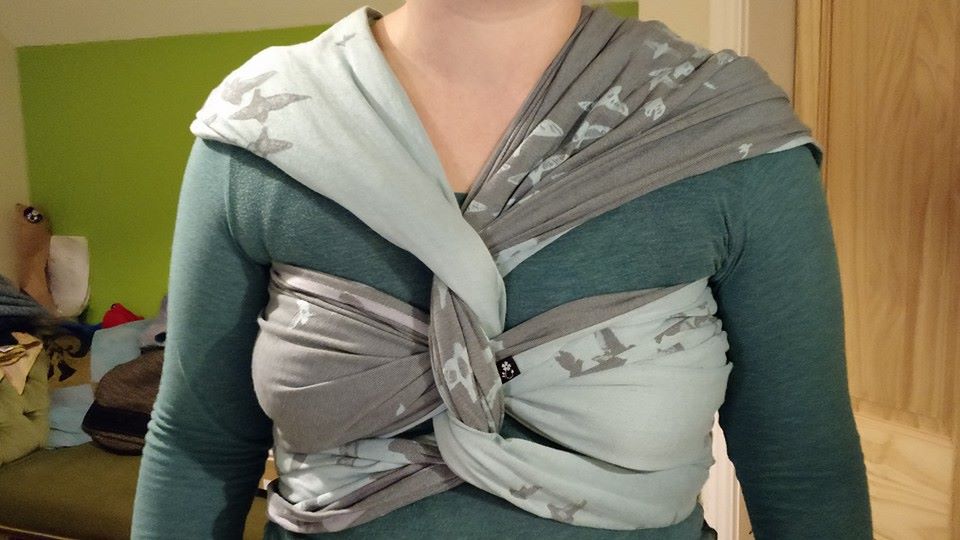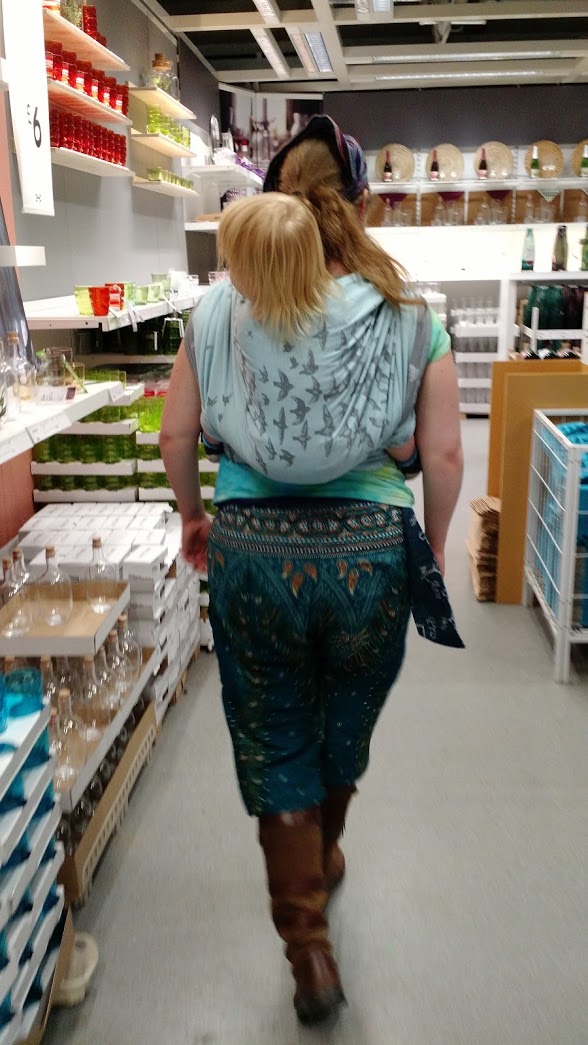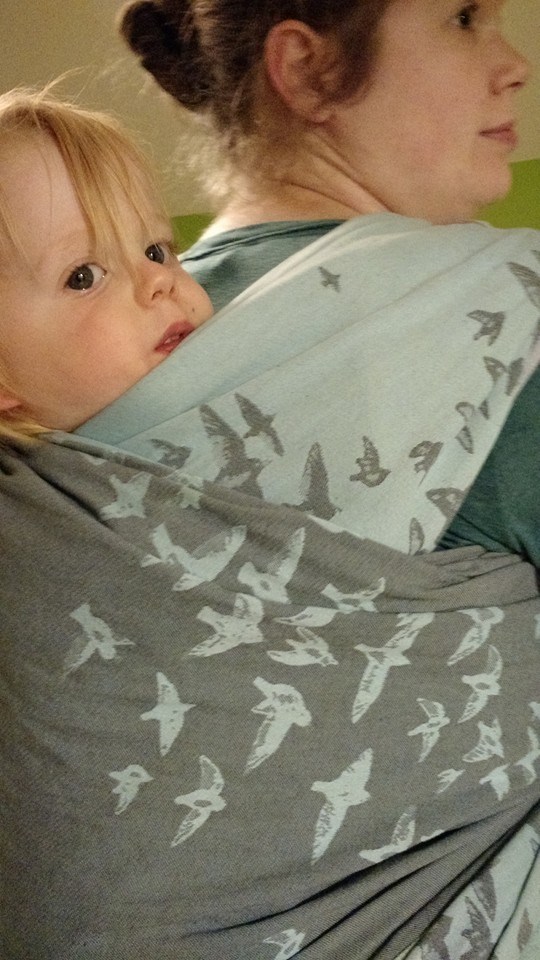 As Reu is getting bigger and heavier I find some wraps are starting to pull a little when I front carry him, but I didn't have this problem with starlings, thanks I think to the sturdy weave structure holding and spreading the weight well for me. He also has a tendency to bounce up and down when on my front if he's not sleepy and in a wrap with more give this finds every tiny bit of slack in my carry and pulls it to the front, leaving a not ideally tight front pocket which can then pull on me. However with starlings the sturdiness of the weave meant that despite his best bouncing efforts during a rather stressful shopping trip (does anyone enjoy shopping in the lots of little breakables section of Ikea with a toddler?!), the wrap held up well, and none of the stress came from the wrap!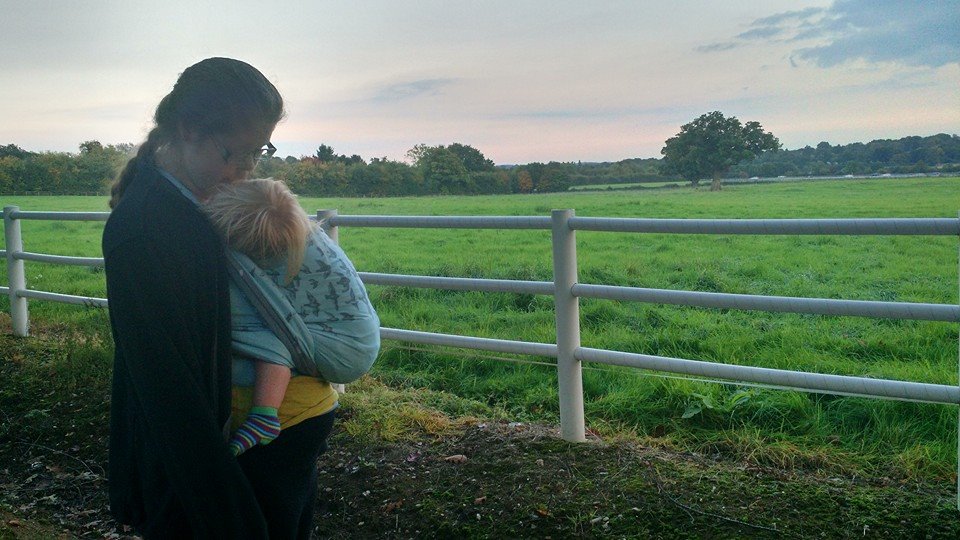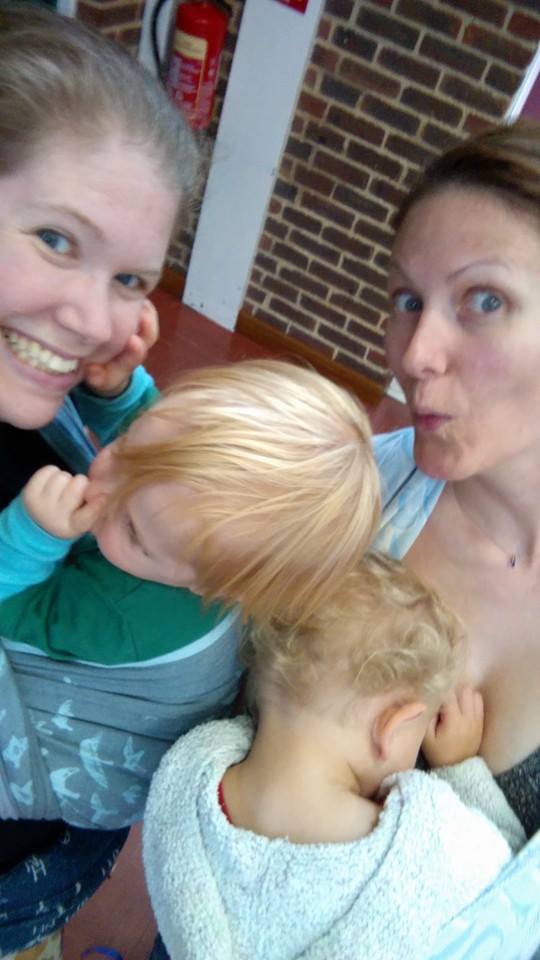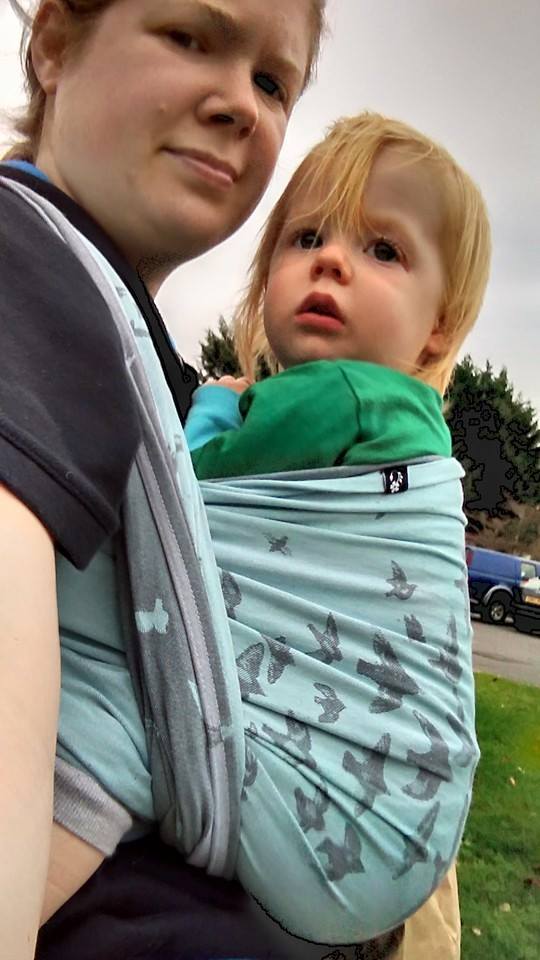 Overall thoughts
Overall, starling murmuration has been a lovely wrap to use. The improvements that Shire Slings have made in their finishing processes are very noticeable, and you could now buy one of their slings and enjoy using it straight from new. The design is really beautiful and works equally well using either side out. The shimmery softness to the 'right' side is really lovely, and I'm sure it will continue to soften even further and become super soft, as well loved earlier edition Shire's that I've touched have become. It's a good all round wrap for babies and children of any age and for wearers of either gender. The resistance to pulls is a great benefit as I have some wraps which are really beautiful but their penchant for pulling puts me off using them. With this wrap you can have a great hard working wrap, that you can take anywhere without fear of rings, nails or sharp objects! And surely that's the point of babywearing, to enjoy adventures with your little ones close to you.