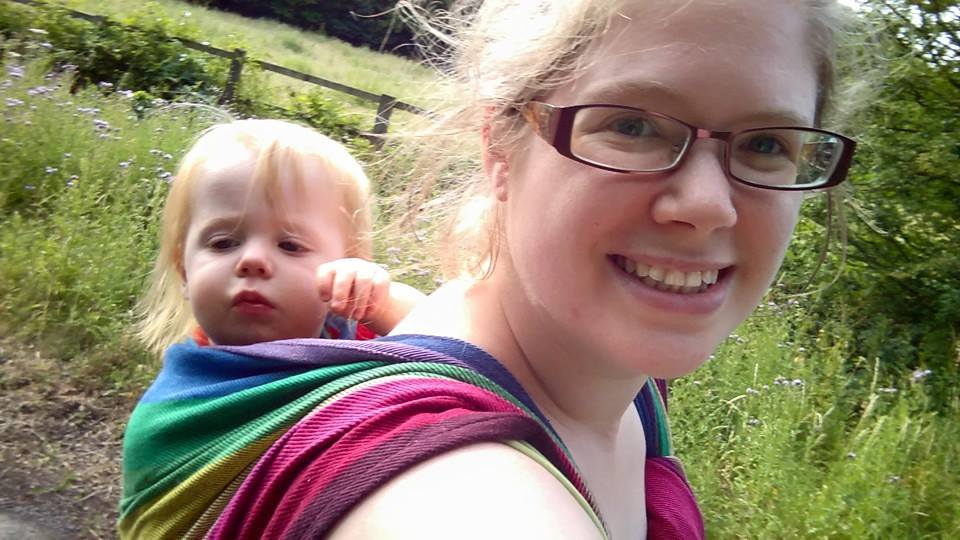 Manufacturer – Bebe Sachi
Design – Warna
Colour – Rainbow
Blend – 100% cotton
Weight – 192gsm
Width of wrap – 60cm
Size tested – 6
Retail price of tested design and size – £123
Provided to me by – Bebe Sachi
Website – Bebe Sachi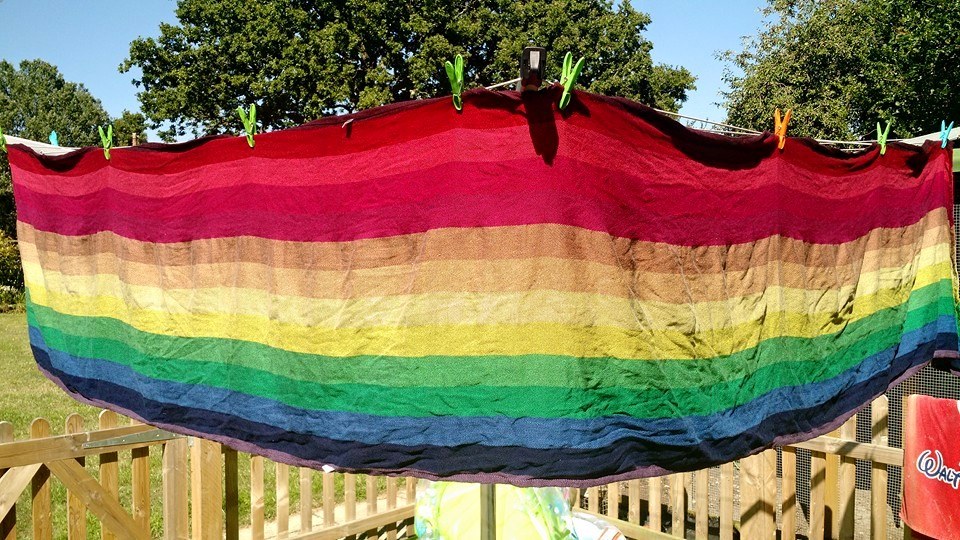 Initial thoughts on design, colour and feel
I don't know where to start with Warna, as it is so much more than just a wrap! I picked up this tester from the Bebe Sachi stand at the European Babywearing Conference, and also attended Azizah's (from Bebe Sachi) workshop on the handloom legacy and the work that Bebe Sachi do helping people in Bangladesh. Bebe Sachi are a social enterprise providing employment for hand weavers in their own villages, thus enabling them to stay with their families and to maintain their heritage of handweaving. The weavers weave when suits them, fitting this work in around other work such as farming, family duties and religious festivals. By keeping the men in employment within the villages, this means the land can still be farmed fully and the women and children are also safer from the violence that is unfortunately a problem in this area of the world. So families can stay together, maintaining their heritage, and be safer, all because Bebe Sachi buy all of their output (fabric not suitable for baby wraps is made into bags and other accessories). So, from all of that you can probably tell I was inspired by Azizah's talk and the ethos of Bebe Sachi.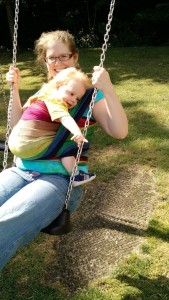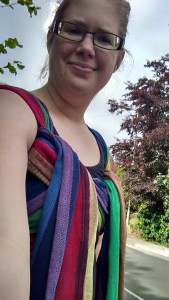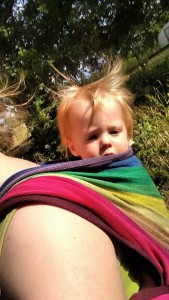 My initial thoughts on Warna (meaning colour in Malay), were that the colours are stunning, a really vibrant and cheerful rainbow, and in fact the brightness of this wrap is why it was selected for me to review, due to my Facebook page about how babywearing can help with postnatal depression (Sling Sally on Facebook). Instantly from brand new the wrap felt lovely and soft and floppy, there was no stiffness to it at all. Warna is a little narrower than Bebe Sachi's usual width, and was designed with teaching and learning in mind as the different coloured rails are brilliant for demonstrating as well as understanding yourself which rail you are working with.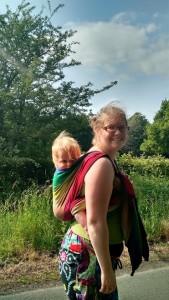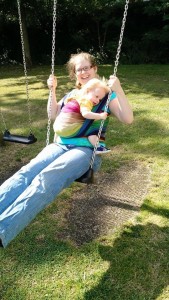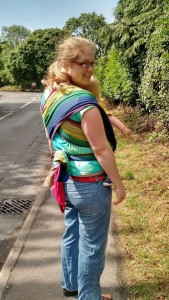 I have been using Warna frequently now for over a month and it is a dream to wrap with. We've used it for front and back carries, and for short and long trips and I cannot fault it in any way. It seems to mold itself around Reu (18 months old), and I , and wrapping with it feels effortless. Reu feels weightless despite being an active and occasionally bouncy (in the wrap), toddler, so I would say Warna is supportive enough from newborn up to toddler (and I expect beyond). The narrower width should also help when wrapping a smaller newborn. The passes stay where you put them, and knotless finishes hold very well as there is a good amount of grip to the wrap, but not so much that there is friction when you are spreading passes. The wrap feels quite thin and light, but it hasn't once pinched or dug anywhere (which can sometimes be a problem with thinner wraps), and has been very comfortable to use. It's been quite hot here recently and Warna has been lovely and cool to use, even on hot days, and even though the tester wrap is a size 6. I've also used Warna to demonstrate some carries and the bright and different coloured rails have definitely helped with both the demonstration and the understanding of the audience.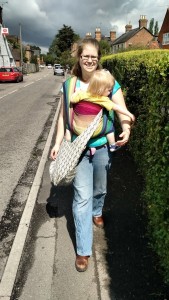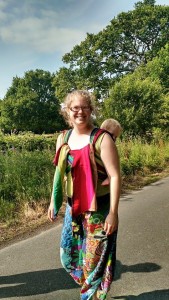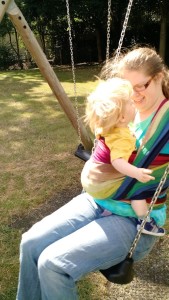 Overall thoughts
I love Warna! It has been a real pleasure to test Warna for Bebe Sachi and I have loved wrapping with it every time I have used it. Unfortunately they are out of stock or I would have added Warna to my personal stash, but instead I have added Bebe Sachi Biru and in the short time it's been here I can already say it's also brilliant, and I'll also be keeping my eyes open for a Warna of my very own.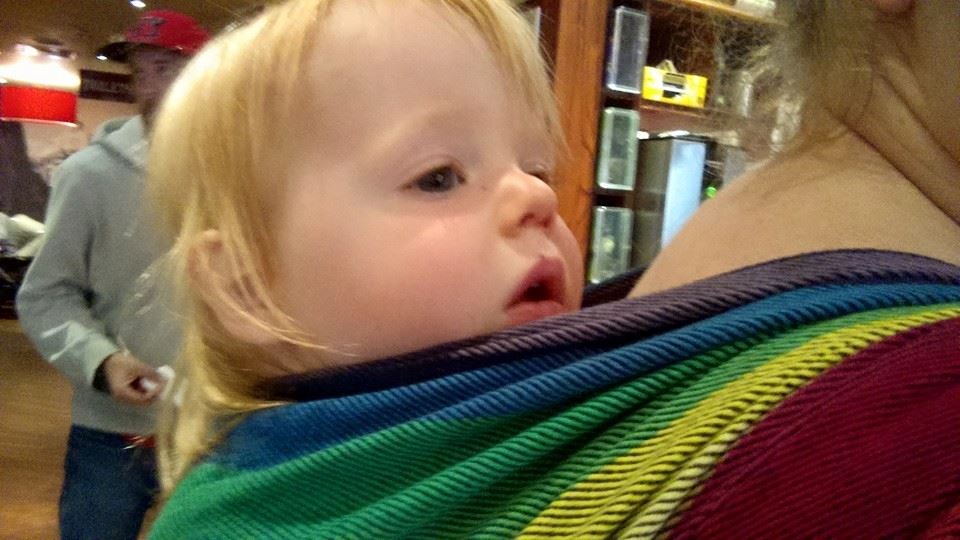 Bebe Sachi are excellent value and quality handwoven wraps, being half to a third of the cost of many other handwoven wrap producers. Add to that the good they are doing for the communities and families they are working with, and you can't go wrong with a wrap from them.