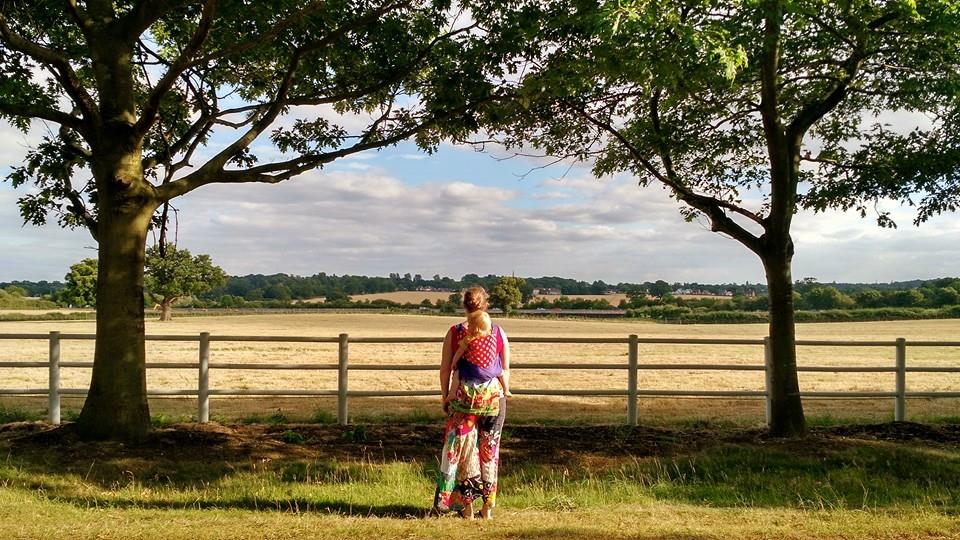 Manufacturer – PodMama
Design – Nobby
Retail price of tested design and size – £75
Provided to me by – PodMama
Website – PodMama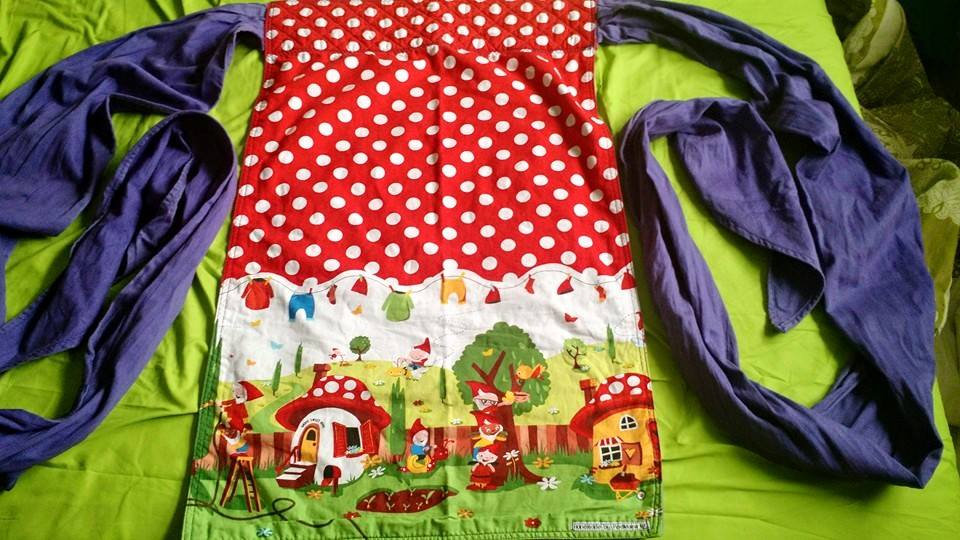 I had never tried a Podaegi (Pod) carrier before but had always been curious, so when the lovely PodMama contacted me and asked if I'd like to holiday Nobby for a couple of weeks there was no doubt in my mind. Nobby is a very cheerful Pod with bright purple straps, polka dots and a lovely gnome scene on the bottom hem, and he travels around PodMama's customers (and me!), so people can try him out.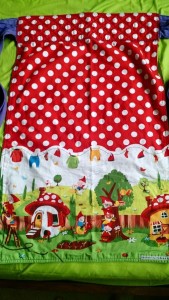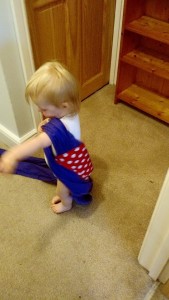 A Pod is basically a large rectangle of fabric, approximately the width of your back and that reaches roughly from your shoulders to just past your bottom. There are long, wide straps coming from the top two corners, but no waist straps, which is the difference from a Mei Tai. You use the straps to form the seat when carrying your child, as you would when wrapping, so a Pod could be said to be half way between a Mei Tai and using a woven wrap. PodMama gave me a crash course in the difference between an angled strap Pod (most commonly available in the UK), and straight strap Pods like Nobby (she makes both). The angled or straight refers to the way that the straps come out of the main body of the carrier, either straight out to the side (straight), or up and out from the top corner (angled). You can use Pods to do most carries that you can do with a wrap (Nobby is the equivalent of a size 6), and the straight strap Pods can easily do underarm passes, such as with a double hammock carry, meaning you can do more variety or carries with a straight strapped compared to an angled strap Pod.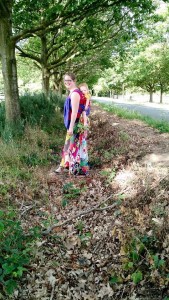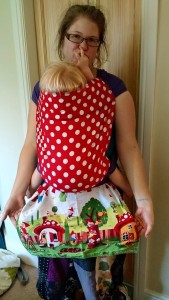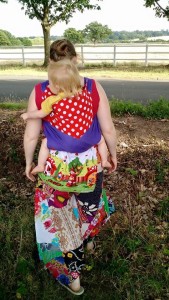 When Nobby arrived for his holiday (I know I'm anthropomorphising a sling here!), he certainly didn't let me down in the cheerful sense! He is so bright and cheerful and the cotton is lovely and floppy with lovely strong feeling straps. Our first attempt was a kangaroo front carry. I found it really comfortable with 17 month old Reu, even though I hadn't spread the straps (spreading them provides more support for you and your child). I was initially concerned about how to use a Pod, but I was pleasantly surprised with how easy it was. During Nobby's visit we went for several walks together (Reu, Nobby and I), and tried out a few different back carries. We tried a basic ruck tied at waist, a ruck with knotless tibetan finish, and a double hammock with candy cane chest belt. All three carries were very comfortable but the ruck finished knotless tibetan was insanely comfortable. Once I'd got the hang of using Nobby it was really simple, and it was nice to not have a waist band as you would with a Mei Tai. Not having a waist band makes Pods a really good choice for back carrying while pregnant as there is no pressure on your abdomen if you choose a finish on your chest like the tibetan or double hammock. When I tried to double hammock it took me a little while to get my brain around it as I'm used to offsetting my middle marker on a woven wrap for this carry to get equal length tails, but of course you can't do this with a Pod. As soon as I'd got my head round it and realised I just had to tie at the shoulder (I chose to candy cane my tails to form a chest belt for comfort and aesthetics), all was well, and it made for a very comfortable carry.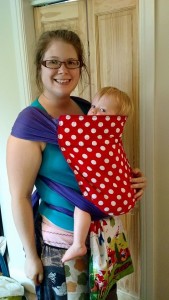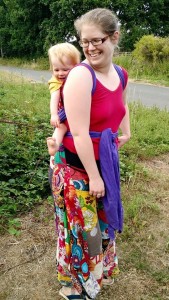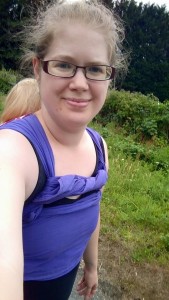 Overall we loved having Nobby to stay and really enjoyed the opportunity to try out a Podaegi carrier. I was pleased with how easy it was to pick up how to use it, and with how comfortable the carries were. We were having some rather hot weather while Nobby was here and it was nice to have less fabric wrapped around us on our walks. and with side ventilation. So, if you're Pod curious, go check out PodMama and the lovely custom carriers she offers (prices start from £45), and consider the options you have with angled or straight straps.