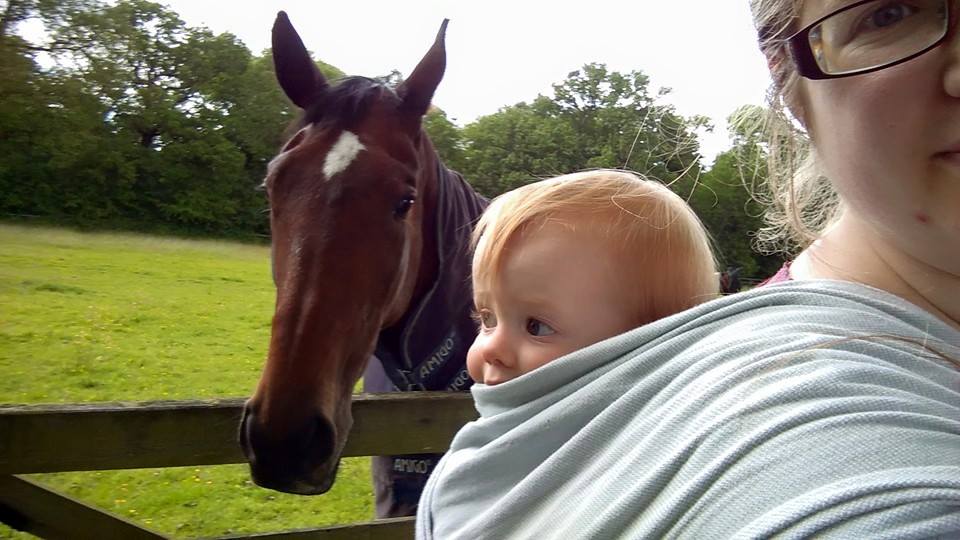 Manufacturer – Pure Baby Love
Design – Pure baby
Colour – Grey
Blend – 100% cotton
Weight – 225gsm
Width of wrap – 70cm
Size tested – 7
Retail price of tested design and size – 75 Euros (foreign currency fee is extra)
Provided to me by – Pure Baby Love
Website – Pure Baby Love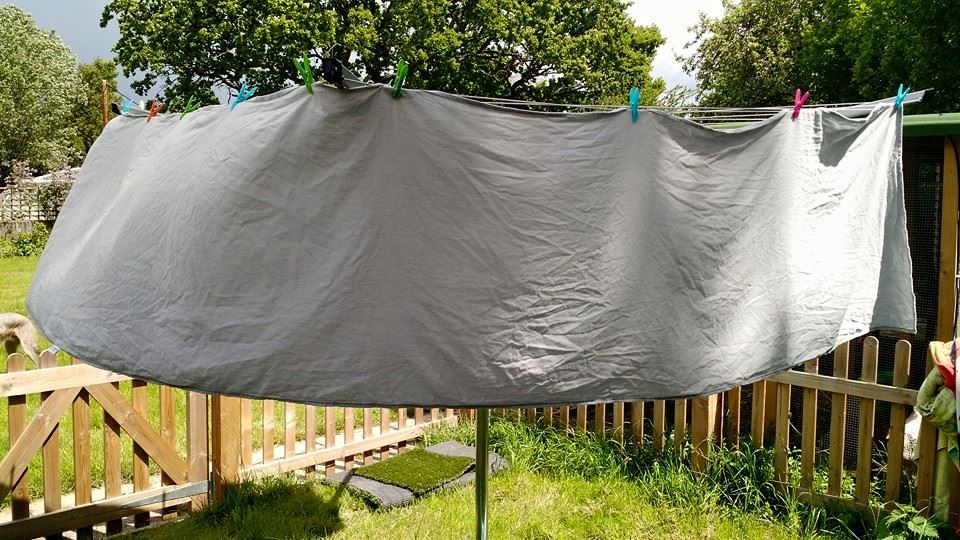 Initial thoughts on design, colour and feel
I can't get over how soft this wrap is, right out of the box! I received a brand new wrap and it feels really lovely and floppy straight away, and quite light too. Currently Pure Baby Love wraps come in three colours, pink, blue and grey, but more colours are in the pipeline. The grey wrap that I received is a lovely soft and subtle shade of grey. I was a little worried that it would seem harsh or industrial but it's not at all and is actually a really nice colour for a wrap, maybe for those who don't want to be wearing a bright rainbow wrap! Being grey, it's also a great unisex colour for babies and wearers alike. When I went to wash the wrap before use I initially thought it didn't have a washing instructions label, but then I realised they were on the middle marker. I like this touch as there's just the one label, so less chance of it sticking out of your finished carry. It also came nicely packaged and with a lovely little wooden plaque that says 'Enjoy the little things', a nice extra touch and great advice.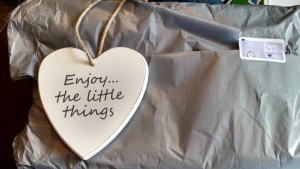 Front carry thoughts
I tried the Pure Baby Love wrap out a few times in a front wrap cross carry, both with bunched and spread passes. It remained lovely and soft after it's wash and just as floppy, which made it really easy to wrap with. Reu and I went for a walk as he was grumpy from teething and being overtired, but he settled quickly in the wrap and went on to have a nap in it, remaining asleep even after we got home and I sat down (usually a bit of a gamble on my part as to if he'll wake up when I stop moving). I found that the wrap was well cushioned on my shoulders, so was suitable for 16 month old Reu's weight. The slight stretch was enough to make it easy to use without it making tightening harder. Clare, who co-runs a local sling library also had a go and commented on the softness of the wrap and that it had a nice amount of give to it.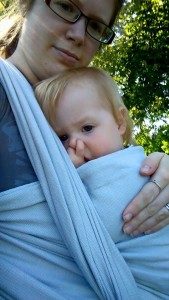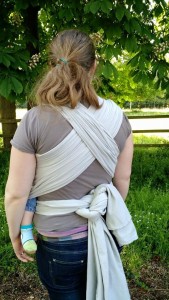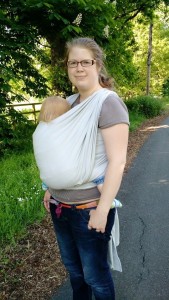 Back carry thoughts
I put the Pure Baby Love wrap to the test with three different back carries, a ruck finished knotless tibetan, a double hammock with saltwater finish, and Christina's ruckless. I found it really easy to use due to the floppiness of the wrap. It was easy to make the passes for the carries and threading the tibetan passes through the ruck straps was no bother at all as there was no stiffness or friction catching. Again, I was impressed by the softness of the wrap, and it felt well cushioned on my shoulders in the ruck carry, even with gathered ruck straps (if I find a wrap digs in on my shoulders then I tend to sandwich rather than gather the shoulders to make the carry more comfortable). The double hammock with saltwater finish was very supportive, and the ease of use of this wrap made it simple to make the passes required for this carry. We went for a half hour walk with Reu wrapped in the double hammock carry and it remained comfortable throughout, and Reu settled happily while we admired the local horses. On all three back carries the wrap stayed where I had put it well, with minimal movement or sagging. I had never tried a Christina's ruckless before this time, and Reu was not himself either, so it wasn't a great wrap job! However that was purely down to Reu and I rather than the wrap, and the ease of use of this wrap meant I did at least manage the carry; with a stiffer wrap I don't think I would have managed it quick enough for Reu's mood.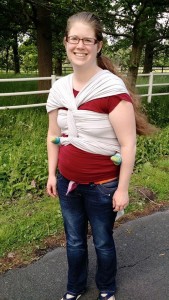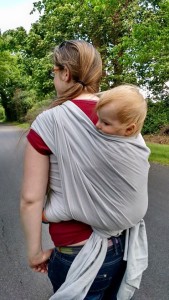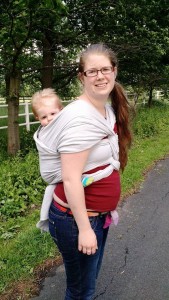 Knotless finish thoughts
As the tester wrap was a size seven, I ended up loosely tying the tails behind me on the knotless tibetan finish ruck, but without applying pressure to the knotless point, so that I could still assess how well it held. It was easy to pass the tails through the ruck straps as the softness of the wrap means there is very minimal friction. Despite this lack of friction the knotless finish still held well for our walk.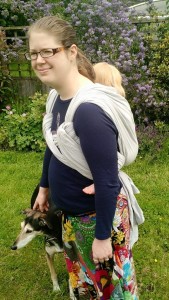 Overall thoughts
I have been really impressed with this wrap, especially the softness and the price. It's been really easy to use straight from new and I've not come across many wraps that are as soft and floppy as this from brand new. While it is perfectly suited to experienced wrappers, I think it would make an ideal wrap for someone new to wrapping as they won't have to worry about breaking it in. It's so soft it would be lovely for a newborn, but was also plenty strong enough for me to comfortably carry my toddler around in. I look forward to seeing the future colours and designs that they come up with (purple and royal blue are now available for pre-order). Lovely wrap and at a great price.