Original guest blog for Bracknell sling meet
    Hi all, I'm Sally, Mum to 13 month old Reuben and a wide variety of pets! I live on the outskirts of Wokingham and I hope you enjoy this blog.
How did you get into babywearing and did you plan to wear your baby when you were pregnant?
We bought a babasling when I was pregnant (and hubby practiced with a teddy!). I knew I wanted to be able to carry him as we have a lot of animals and a large garden to tend to and I thought carrying would make that much easier (and it does). At that point I viewed wraps as too complicated and wanted something I could quickly pop him in and out of. The Baba did that for us and I loved it and we didn't even consider upgrading until I wanted to start back carrying when Reu was about 7 months old.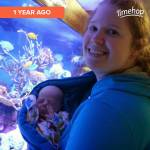 Reu was about 4 weeks old here.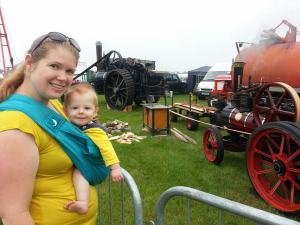 In the Baba for the whole day at Newbury show, about 8 months old.
Tell us about your wraps and carriers?
So I started with the Babasling. When he was about 7 months we saw some friends using a Connecta to back carry and thought that could be useful as he was starting to grab at things that sometimes he shouldn't be grabbing. We looked online and ordered a Palm and Pond mei tai as they seemed very reasonable. We got on fine with that and used it for whole days out, as we had with the Baba, but then I went to the local sling meet! My intention was to try a Connecta to check I liked it before we bought one but they were all out on loan so I ended up trying a wrap conversion mei tai (WCMT) by the amazing Little River Mei Tai, and I fell in love. It is so comfortable and spreads the weight so well I don't feel like I'm carrying at all, plus Reu fell asleep in it instantly. So my very early Christmas present was a custom WCMT from Little River made from Shire Slings Love Geek and it is still the comfiest carrier I've tried.
When I was looking at wraps to choose what to have the mei tai made from I discovered the wonderful world of wraps and the variety of wraps and carries and started getting curious. It was November when our first woven arrived (not including the love geeks that I sent off to be chopped!), and it was a size seven Nati lutea sky. It was pre loved and so soft and floppy and the addiction began there! I got a lenny lamb ring sling around the same time as an upgrade for the baba to live in the car for quick carries.
So my stash (and I am way too sentimental to sell anything I've carried Reu in!), now includes – Teal babasling, palm and pond mei tai, WCMT by Little River mei tai made from Shire Slings love geek in apple and petrol, lenny lamb betula RS, Natibaby bubbles RS, Natibaby dinos RS, Kokadi nils in wunderland RS by Geeky Sweetheart (so very comfy), Natibaby Lutea sky 7, Girasol light rainbow diamond weave 7, Firespiral driftwood cyano seafoam 7, Little Frog jade 6, Kokadi elephant parade 5, Natibaby dinofun 5, Joy and Joe luceo non uro 5, Natibaby kangaroos 5, Natibaby wrapped messages 4, Lenny lamb betula 2 and Jumpsac solace bosphorus 4 on it's way!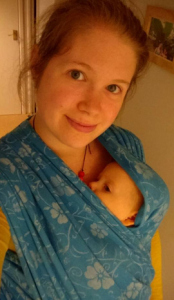 First time with a woven.
What's your favourite wrap/carrier you've ever owned and why?
I loved the Babasling for enabling me to get into babywearing. My favourite carrier has to be my Little River mei tai love geek WCMT for being the most comfortable and beautiful thing ever. The meaning behind the wrap is perfect for carrying your baby in and made me cry when I first read it. My favourite woven is definitely firespiral driftwood cyano seafoam. It's so beautiful and light but feels really supportive, it feels such a different weave to others I've used and it's so comfortable.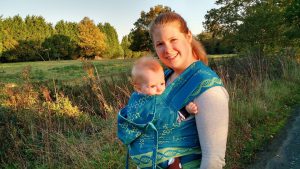 This is the first time I wore the love geek out, I've got neater since, I was just so excited!
If money were no object, what wrap or sling would you own?
All of the firespirals! I would definitely love to try more FiSpi. Also, our wedding theme was peacock feathers so I love the look of the Artipoppe Argus wraps, but these are definitely out of my price range currently!
What do you like about babywearing?
I love being able to be close to Reu all the time and interact with him so much. When we go for walks he can see everything I can see so we can look at everything together. He's very sociable which I'm sure is in part because he's had so much interaction with people by being at their eye level. I also love being able to get on with things that need doing, while having a happy Reu with me, for instance he's asleep on my back as I write this. I have suffered from anti-natal and postnatal depression and babywearing has definitely helped me cope with this as it's enabled me to get out easily, get jobs done, and form an incredible bond with Reu.
What do or did you find hardest about babywearing?
The only thing I can think of is sometimes peoples opinions of you. Most of the time people are very positive and say how snug and happy he looks but sometimes it can feel like the non carrying mums don't talk to you as much because you're the 'hippy with the bit of fabric!' But then the friends you do make are the ones who accept you as you are and I've met some really lovely people through the babywearing community.
Does your partner join in with the babywearing?
Very much so! He used the babasling before I did, and also uses the mei tai and ring slings. He was initially not interested in wrapping but was inspired by Sling Dad Dom and now wraps himself. I got the dino wrap to encourage him and he has since seen wraps and asked if we can get them. My Mum's even had a go too.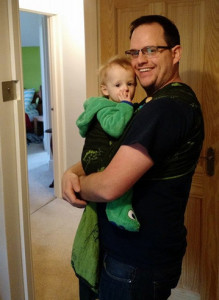 Ben (hubby) wrapping with dinos.
What kind of comments do you receive when you babywear out and about?
Mostly very positive. Lots of comments about how comfy and happy he looks and I love talking to people about slings and encouraging them to get to a sling library and give it a try if they are interested. I'm finding more and more mums are showing an interest which is great. The funniest question I've had is a friend once turned to me and said 'do you even own a buggy?!' (The answer is yes, I haven't used it for well over six months and used it very little before then, but due to storage it lives in my boot and I drive it everywhere with me!)